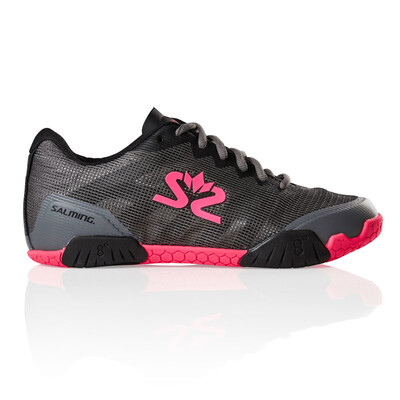 Product Description
Dominate the court in these indoor shoes.
Hawk features a low to ground profile fuelled with energy, stability and an impeccable grip.
The ExoSkeleton inner cage is connected to the lacing system and offers excellent support.
The HexaGrip outsole featuring two LMSplus 8°areas allows for stability during multidirectional movements.
The new midsole Recoil ERF – Energy Rebound Foam – with its added offset cushioning heel area (SoftFOAM) provide energy return and comfort in every step.
The upper is a 4 layer construction with air mesh for maximum breathability.
Drop: 7 mm
Colour: GunMetal/Pink
Stack: 23 mm center of heel, 16 mm ball of foot
Midsole: Recoil™ ERF+SoftFOAM™
Outsole: HexaGrip™
Lining: Mesh
Information
We currently offer FREE SHIPPING around New Zealand with orders over $100. Call us on 027 249 8559, or use our Live Chat for further assistance regarding our store or your order.