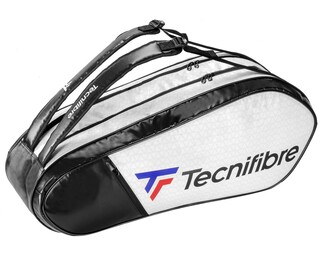 Product Description
If you're looking for just the right amount of capacity in a great-looking package, then look no further than the Endurance 6R bag.
Made from lightweight and durable Tecnifibre tarpaulin microfiber material and featuring comfortable and innovative carrying straps, the 6R includes two main compartments and an ample-sized accessory pocket.
The main compartments will hold six racquets between them with plenty of room for extra gear.
The accessory pocket on the side is ideal for smaller items like dampeners, overgrip, keys or your phone.
The Endurance 6R strikes the perfect balance of functionality and fashion, allowing you to stay organized while looking great on and off the court.
Technical Specifications:
79cm x 33cm x 24cm
Information
We currently offer FREE SHIPPING around New Zealand with orders over $100. Call us on 027 249 8559, or use our Live Chat for further assistance regarding our store or your order.